Here we are. The final foe. I have tested the players of this year's Naismith Basketball Hall of Fame against three classes of greats originating from similar inductions in 1980, 1987 and 2006, and each time this year's recipients have held up to the challenge. So far, this does truly look like the greatest class of Basketball Hall of Famers ever.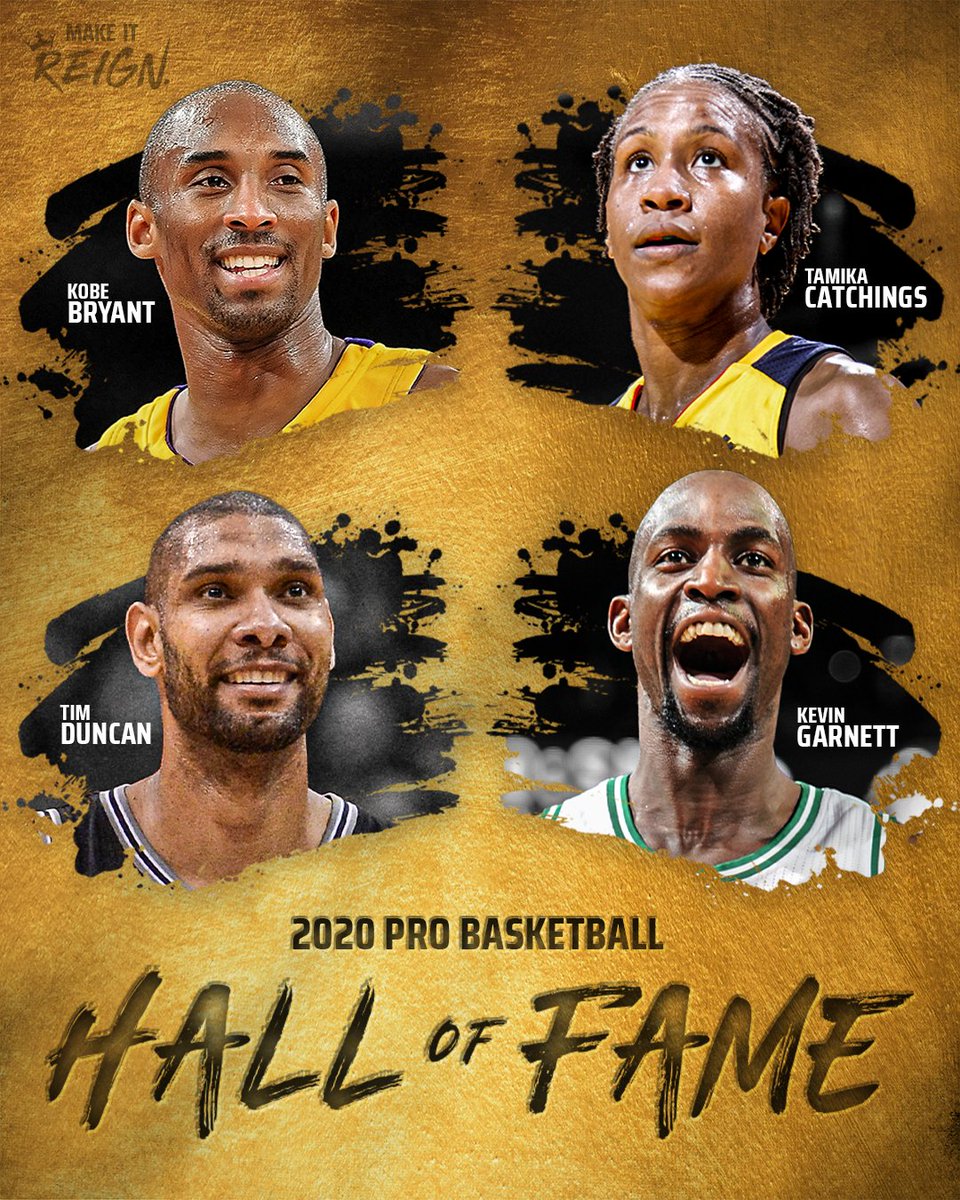 For those of you who haven't followed, this test has been performed through their collective award resumes, and a statistic I made up for our purposes called Accolades per Player, or APP. As a reminder one last time, here is that award resume for Kobe Bryant, Tim Duncan, Kevin Garnett and Tamika Catchings.
58 All-Star Appearances (Bryant with the most, 18)
51 All-NBA/All-WNBA appearances (Bryant and Duncan tied at 15 total appearances, but Bryant had 11 1st teams to Duncan's 10)
51 All-Defensive Teams (Duncan with 15, but Bryant and Garnett were first team 9 times, meanwhile the WNBA only has one team, so all 12 of Catchings All-Defense awards are essentially first team)
6 Defensive Player of the Year Awards (Catchings had 5 of these, I don't care that she's a woman, she might be the best defender out of this whole group)
6 All-Star MVPs (Bryant had 4)
6 Finals MVPs (Duncan had 3 of these)
5 season MVPs (Duncan had 2)
4 rebounding championships (all Garnett)
1 scoring title (Bryant)
12 Championship rings (5 for Bryant and Duncan each)
Beyond that, I have also aggregated their traditional statistics to compare and contrast against the previous classes in question. I have taken these four legendary NBAers and melded them into one super-player with the following per game career stats:
20.1 Points Per Game
8.6 Rebounds per Game
3.8 Assists Per Game
1.3 Steals Per Game
1.3 Blocks per Game
0.218 Wins Shares Per 48 Minutes
Today we will do the same, but this test is special. Today, they will go up against an incredibly formidable class that includes three greats from the late 80s and 90s, including arguably the best basketball player of all-time.
2009: wing Michael Jordan, center David Robinson, point guard John Stockton
34 All-Star Appearances (11.3 APP vs 14.5 APP) (Jordan led with 14)
32 All-NBA Appearances (10.7 APP vs. 12.75) (Jordan and Stockton each had 11)
22 All-Defensive Team Appearances (7.3 APP vs. 12.75) (Jordan, 9)
2 Defensive Player of the Year Awards (0.7 APP vs.1.5) (Jordan & Robinson)
4 All-Star MVPs (1.3 APP vs. 1.5) (Jordan, 3)
6 Finals MVPs (2 APP vs. 1.5) (all Jordan)
6 regular season MVPs (2 APP vs. 1.25) (Jordan, 5)
11 scoring championships (3.7 APP vs. 0.5) (Jordan led the league in scoring 10 times! Ten!)
1 rebounding championship (0.3 APP vs. 1) (Robinson)
9 assist championships (3 APP vs. 0) (Stockton had all 9)
5 steals championships (1.7 APP vs. 0) (Jordan, 3)
1 block championship (0.3 APP vs. 0) (Robinson)
This group may finally give the 2020 Hall of Famers a run for their money. Look at that resume! Yes, our newest Hall of Famers take most of the actual trophies, but thanks to Jordan alone the 2009 group have as many Finals MVPs awards to their name as the 2020 inductees, and have done so without the benefit of a fourth player. Six regular season MVPs compared to the Kobe/Duncan/KG/Catchings' five also gets the better of the newcomers whether or not you take APP into account. In reality, even with all the folklore, its easy to forget how incredible Jordan was. Not only was he the home of all six Finals MVPs himself, as well as five of the regular season ones, but his 10 scoring titles dwarf anything the 2020 Hall of Famers did, and that's without even counting the token scoring championship that the Admiral won in 1993-1994. Statistical championships at large are really where this group shines as they also brought in nine assist championships (all Stockton), five steal titles (MJ and Stockton combined) and 1 block championship (Robinson). All of these conversely counteract the fact that they only had one rebound title compared to the 2020 groups four. Really, if you wanted to bet on one of these groups being the league leader in something in a given season, you should pick Jordan, Robinson and Stockton. They also, if nothing else, would likely make an incredibly devastatingly good three-on-three squad. That is a post for another day, but I really think I'd take Stockton, Jordan & Robinson in a game of three-on-three with any combination of Bryant, Duncan, Garnett and Catchings.
Moving on though, let's look at this 2009 group in the statistical aggregate. Jordan, Robinson and Stockton averaged:
20.4 Points Per Game
6.0 Rebounds Per Game
6.6 Assists Per Game
2.0 Steals Per Game
1.2 Blocks Per Game
0.236 Win Shares Per 48 Minutes
For the first time, the pacing statistics of their median season, which is 1994-1995, were nearly the same as 2006-2007. Teams averaged one more possession in '94-'95 with their PACE figure being 92.9, just a 1% increase over '06-'07. This change merely bumps their statistics down marginally:
20.2 Points Per Game
5.9 Rebounds Per Game
6.6 Assists Per Game
2.0 Steals Per Game
1.2 Blocks per Game
0.236 Win Shares Per 48 Minutes (not altered)
Naturally, the two big men of the 2020 inductees propelled them to a higher rebound and rate and the 2009 squad is pushed to better assist numbers by Stockton. But with points being essentially the same its stark to realize that the group with 12.75 APP in terms of All-Defense honors didn't accumulate nearly as many steals as less decorated defensive group from 2009. The less-awarded squad also blocked shots at nearly the same rate as the 2020 group despite having only one big men in their presence. Finally, the cherry on top of this statistical sundae is that the 2009 Hall of Famers average 0.236 WS/48, which bests the 2020 Hall of Famers.
In all, this is darn close. Bryant, Duncan, Garnett and Catchings are more highly decorated in terms of traditional awards like All-Stars, All-NBAs and so on, and a lot of that can be attributed to the great longevity that all four of those players possessed. They won awards in the late stages of their careers, not just their primes. They had to play at a high level throughout. Statistically though, the edge goes to Jordan, Robinson and Stockton. They actually led the league in different stat categories more often. Jordan alone had more scoring titles than the 2020 inductees had of any type of statistical title. Additionally, their per game averages are comparable to the 2020 squad in a lot of ways and I think its most impressive that they generated steals with such frequency. Lastly, the WS/48 analytic would also fall in the 2009 Hall of Famers favor.
Objectively, this is way too close to call and not worthy of splitting the hair. The 2009 Class was more statistically dominant, the 2020 Class was more highly decorated. Both are the best we have ever seen, that much this exercise has made me sure of, but to call one better than the other at some point is just a matter of preference.
My preference then is to side with the 2020 group on the premise of sheer individual talent. Unequivocally, Jordan is better than Bryant, that much can't be argued against. However, Duncan is probably the best power forward of all-time which leads me to prefer him to Robinson. That resolution leaves me with the strange choice of comparing Stockton to either Garnett or Catchings. In their merits as a total basketball player and in comparison to their own peers, I think I'd pick both Garnett and Catchings. Both scored at a more elite level, won championships and were the best players in the history of a given franchise (Timberwolves for Garnett; Fever for Catchings) teams. Stockton cannot boast any of those things.
Ironically, I spent this entire time on a statistical analysis that led me to an anecdotal answer, but so be it. Ultimately, narrative and opinion does play a factor, particularly when the numbers get so close that you can barely tell the difference. I strongly believe this is our situation. Ultimately, no matter what your preference, each and every one of these Hall of Famers is deserving of a recognition that I desperately hope that they all receive.