With the 2020 Summer Olympics postponed one calendar year, the United States Men's Basketball team will have to wait another twelve months to avenge a lethargic and disappointing 7th place finish at the 2019 FIBA World Cup.
While not quite the stage that is the Olympics, that unfortunate tournament outcome was the first of its sort for the Americans since a 2006 bronze medal at the same event in Japan. Two even more memorable under-achievements of the most talented basketball playing nation on the planet came two and four years earlier when the US finished 6th at the 2002 FIBA tournament, and earned a measly bronze medal at the 2004 Olympics in Greece.
Why bring all this up? Well for one, with the lack of Olympics this year and a lack of basketball right now, its on my mind. I love international competition and I love it even more when its applied to the sports that are on the forefront of my attention most often. I enjoy watching swimming, track and field, cross country skiing, curling, and what have you. But I love Olympic basketball and the World Baseball Classic (sadly being postponed from 2021 to 2023) even more. The stars I see on a regular basis playing for their country. What could be better?! It doesn't even have to be America!
On top of all that, current media has Olympic basketball on my mind as well. ESPN's documentary The Last Dance has one large, heaping helping of Michael Jordan in it. Of course, any Michael Jordan conversation is not complete without mention of the 1992 Dream Team, which is indeed included early in the series. Additionally, the basketball/fantasy mash-up web series Game of Zones is currently trending on YouTube with its finale slated this week. And for those who may not be following along, the ending story-line is set as the Dream Team has arrived from the past re-invigorated and about to do battle with today's modern stars.
This got me thinking. There have been seven "Dream Teams" since the inception of professional NBA players being allowed to participate in the Olympics in 1992. Those teams have seen plenty of ups. All but the aforementioned '04 team have won the gold.
But how do the US Men's teams stack up against one another? That's what I am here for. After an exhaustive amount of research I am here to rank the seven US Men's National Basketball teams that have participated in the Olympics since 1992. Naturally, we start at number 7.
7. 2004 Olympics in Greece (Tim Duncan and a Bunch of Other Guys)
Average Point Differential: +4.6 ; Outcome: Bronze Medal, 104-96 over Lithuania
Best Win Share Team (based on Win Shares per 48 minutes from previous NBA season)
Tim Duncan
Carlos Boozer
Shawn Marion
Richard Jefferson
Stephon Marbury
Top Tournament Scorer: Allen Iverson (13.8)
Top Tournament Rebounder: Tim Duncan (9.1)
Top Tournament Assist Man: Stephon Marbury (3.4)
Most Minutes: Iverson (217)
He Was Really on the Team?!?! Award: Emeka Okafor (14 minutes played)
Would you believe that a roster that contained LeBron James, Carmelo Anthony and Dwyane Wade was the least talented Men's National team of all time? It is. When you consider the fact that they were all coming off their rookie season's in the NBA it becomes a little more realistic. Naive and cocky, those three were not much help to this squad and head coach Larry Brown was reluctant to even given them minutes at the time with Anthony being only one of two players to not play in every game (the other was fresh outta college Emeka Okafor).
Really, this roster is Tim Duncan and a bunch of solid NBA pros rather than super-stars. Iverson, the leading scorer also led the team in minutes despite playing only 48 games in the 2003-2004 NBA regular season due to injury. Something I will reference throughout this list are the teams' collective per game averages during the previous NBA regular season, in order to give a feel for the talent level of the team based on their stats in reference to each other. Rather than try to compare them entirely based on their international stats, when international talent has dramatically increased over 24 years, they will be compared in part using their NBA season performance. With that said, the '04 team's 2003-2004 NBA season totals were lack-luster. They scored the fewest collective points, dished the fewest assists and had the fewest Win Shares Per 48 Minutes of any of their Dream Team counterparts. Duncan was also the only player to be voted All-NBA or in the top 8 in MVP voting. Richard Jefferson, who played more minutes in the tournament than James and Anthony combined, while playing the same position, was never an All-Star once in his career.
This team's best scorer was coming off of injury, they completely lacked any ball-distributing point guard (Marbury? blech) and really suffered in how they were designed as a team. This was really just a conglomeration of talent, not a well thought out basketball squad.
6. 2016 Olympics in Rio de Janeiro (Durant's Team)
Average Point Differential: +22.5 Outcome: Gold Medal, 96-66 over Serbia
Best Win Share Team (based on Win Shares per 48 minutes from previous NBA season)
DeAndre Jordan
Draymond Green
Kevin Durant
Jimmy Butler
Kyle Lowry
Top Tournament Scorer: Kevin Durant (19.4)
Top Tournament Rebounder: DeAndre Jordan (6.1)
Top Tournament Assist Man: Kyrie Irving (4.9)
Most Minutes: Durant (230)
He Was Really on the Team?!?! Award: Harrison Barnes (31 minutes played)
This team is a symbol of the beginning of the slow crawl back towards mediocrity that ultimately reared its ugly head a with the 7th place finish at the 2019 FIBA World Cup. With that being said, the previously ranked 2004 squad is in a league of its own. The leap from the 7 spot to this 6 spot is significant.
This is Durant's team, having proven himself to be worthy for the cause in the 2012 tournament (more on that later). Without other top level scoring talent (exception given to Irving) Durant was allowed to go buck wild on all competitors, most notably dropping 30 points on Serbia in the Olympic final. And what a difference four years makes. Concerns abounded at the time about if team chemistry would be effected by Durant's free agent decision to join the Warriors a mere month before this Olympic tournament, particularly between Durant and Irving. Now he and Irving, who played for the Cavs team that was likely most effected by Durant's move, are teammates in Brooklyn.
The 2016 version of Team USA was also home to a prolific version of DeAndre Jordan that no longer exists, coming off of 1st Team All-Defense and 1st Team All-NBA honors in the previous season NBA season. More in reference to the context of the NBA coming off that 2015-2016 season, this team was a middle of the road squad in comparison to their fellow Dream Team peers. Their previous season numbers were middling at best but they never ranked last in any of the statistics that I checked. They lose points for having a score-first point guard in Irving as their main distributor of the ball and for having another never-All Star on the team in Harrison Barnes. Durant carrying the load was a bit of a need rather than a luxury for them, particularly in comparison to just four years previous, and that's how they have ended up sixth.
5. 2000 Olympics in Sydney (The Specialists)
Average Point Differential: +21.6 Outcome: Gold Medal, 85-75 over France
Best Win Share Team (based on Win Shares per 48 minutes from previous NBA season)
Alonzo Mourning
Kevin Garnett
Vince Carter
Steve Smith
Gary Payton
Top Tournament Scorer: Vince Carter (14.8)
Top Tournament Rebounder: Kevin Garnett (9.1)
Top Tournament Assist Man: Jason Kidd (4.4)
Most Minutes: Carter (181)
He Was Really on the Team?!?! Award: Vin Baker (110 minutes played)
This is the first USA Dream Team where you will see a real slip up in the amount of talent after the institution of pros in 1992. Though I will say while their names might underwhelm slightly today in comparison to the 2016 team, I think that is just recency bias.
The 2000 version of Team USA is a bit of a team of specialists with the only one notable exception in Garnett. Carter is a scorer at the peak of his powers. Jason Kidd is handling and distributing, Alonzo Mourning is coming off winning the Defensive Player of the Year award and Ray Allen, Steve Smith and Allan Houston can shoot the lights out. What this team lacks though is the type of interchangeable, multi-talented stars that you will see on teams ranked better than them.
Their biggest strength is around the rim. Between Mourning and Garnett you have two lock-down defenders and a team that blocked more shots in their previous NBA season than any other Dream Team. They could just bludgeon to death their Olympic opponents and it shows, the front-court tandem were the only double-digit average scorers outside of Carter. Their biggest scare came in the semi-final vs. Lithuania, which saw them sneak away with a 2 point victory on the shoulders of Garnett's 14 & 12 performance that included a crucial steal with 25 seconds left and a 1 point lead. All that being said, I think the close call was more a question of motivation rather than talent, so they place fifth.
4. 2012 Olympics in London (The Re-Deem Team 2.0)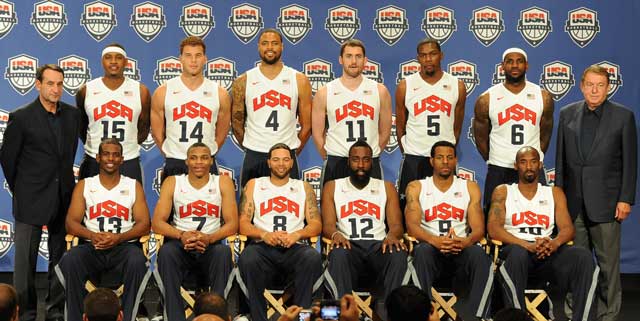 Average Point Differential: +32.1 Outcome: Gold Medal, 107-100 over Spain
Best Win Share Team (based on Win Shares per 48 minutes from previous NBA season)
Kevin Love
LeBron James
Kevin Durant
James Harden
Chris Paul
Top Tournament Scorer: Kevin Durant (19.5)
Top Tournament Rebounder: Kevin Love (7.6)
Top Tournament Assist Man: LeBron James (5.6)
Most Minutes: Durant (209)
He Was Really on the Team?!?! Award: Deron Williams (145 minutes played)
I'm not a huge Durant fan. I'm from Cleveland. He ruined any potential for a continued, fair and balanced rivalry between the Cavs and Warriors, but is he possibly the best Olympic basketball player of all-time? I said before he proved himself in this Olympics, and that he certainly did. Coming off of a Finals loss to James and the Heat this was a statement, and his first successful shot at real glory.
It wasn't all Durant though. This is the first team we will look at with a real depth of talent. There were five double-digit average scorers on this team in Durant, James, Anthony, Kevin Love and Kobe Bryant. However, those scorers came at the cost of front court depth. Tyson Chandler is coming off a season as Defensive Player of the Year, but he is the only center on the team outside of the fresh outta college Anthony Davis. Its clear the strategy here was to try to be as proficient as possible offensively, and that they were, scoring in triple digits in 6 of 8 games in the tournament. They even dropped an Olympic record 156 points on Nigeria in pool play. Melo had 37 in 14 minutes in that game… I don't even know how that's possible. Finally, their previous NBA season ranks 3rd best in terms of Win Shares per 48 when compared to all other Dream Teams.
Perhaps you think I have this group a little low, after all this squad was questioned at the time of its assembly to be able to take a run at the '92 Dream Team, but its just not quite as good as three of its other brethren. Its definitely missing at least one big piece that might not be obvious, but that one of its immediate predecessors had.
3. 2008 Olympics in Beijing (The Re-deem Team)
Average Point Differential: +27.9 Outcome: Gold Medal, 118-107 over Spain
Best Win Share Team (based on Win Shares per 48 minutes from previous NBA season)
Dwight Howard
Chris Bosh
LeBron James
Kobe Bryant
Chris Paul
Top Tournament Scorer: Dwyane Wade (16.0)
Top Tournament Rebounder: Chris Bosh (6.1)
Top Tournament Assist Man: Chris Paul (4.1)
Most Minutes: LeBron James (198)
He Was Really on the Team?!?! Award: Michael Redd (72 minutes played)
That one missing element is skilled size and Dwight Howard and Chris Bosh provided it for the 2008 team. Howard is a season away from making the Finals as the center-piece of his late '00s Orlando Magic teams coached by Stan Van Gundy. Bosh is proving himself to be quietly one of the best picks in the highly touted 2003 NBA Draft. He leads this team in rebounding despite getting only the 7th most minutes. Once again, this team has five double-digit scorers on it in Wade, James, Bryant, Anthony and Howard and once again they scored in triple digits as a team in six of eight tournament games.
In comparison, their previous NBA season resume is greater than the 2012 squad as they finished with the 2nd most collective Points per Game of any US Men's team and also finished 2nd in assists between incredibly capable passers like Paul, James, Kidd and Williams. They had four of the five members of the 1st All-NBA team (Howard, James, Bryant and Paul) as well as the league MVP (Bryant). On top of all this, Spain finishing within 11 points of Team USA in the Final was as close as any opponent would get in a game that saw the steady hand of Kobe Bryant score 20 and lead the team with 6 assists, foreshadowing his final two NBA titles in the two coming years.
Perhaps another rim-protector outside of Howard could have been in order. He was the only player on the team to record more than 1.5 blocks per game in the previous NBA season for this team, but having the rebounding of Howard, Bosh and Carlos Boozer gives them the leg up on the 2012 team. It just doesn't put them in the stratosphere of our final 2.
2. 1996 Olympics in Atlanta (Dream Team 2.0)
Average Point Differential: +31.7 Outcome: Gold Medal, 95-69 over Serbia and Montenegro
Best Win Share Team (based on Win Shares per 48 minutes from previous NBA season)
David Robinson
Karl Malone
Scottie Pippen
Penny Hardaway
John Stockton
Top Tournament Scorer: Charles Barkley (12.4)
Top Tournament Rebounder: Charles Barkley (6.6)
Top Tournament Assist Man: Gary Payton (4.5)
Most Minutes: Scottie Pippen (176)
He Was Really on the Team?!?! Award: Hakeem Olajuwon (87 minutes played, became a naturalized citizen in such a way that he was eligible in '96 but not '92)
Dream Team 2.0 had one very obvious omission, several capable additions and a number of significant hold-overs from the original Dream Team. Obviously, Michael Jordan is nowhere to be found, but Pippen and Karl Malone still rank in the top 5 in minutes for this 1996 team along with one of the best shooters ever in Reggie Miller and a star that burned out far too soon in Penny Hardaway. It was "no Jordan, no problem" in 1996 as Barkley took over the mantle as the team's best player, leading in most points and rebounds despite finishing 7th in minutes played.
Maybe surprisingly, this team was the most prolific scoring team of any Team USA when counting up their previous season NBA stats, and it comes from a plethora of front court players that all scored more than 20 points per game. Among them, a 23 year old Shaquille O'Neal, a veteran Hakeem Olajuwon and '92 hold-overs Barkley, Malone and David Robinson. This team also had that previous NBA season's 2nd, 4th, 5th and 6th place MVP finishers (Robinson, Olajuwon, Pippen and Payton, respectively) and it had 4 of the five first team All-NBAers (Robinson, Malone, Pippen and Hardaway) as well. The only player to not at least have two of the following three accolades for the 1995-1996 season- All-NBA Team, All-Defensive Team, be an MVP vote recipient- was Reggie Miller, and like I said before, he was only one of the best shooters in the history of the game.
Don't get it confused. They are actually neck and neck with our obvious-by-now first place finisher. You would think this would be an easy decision, but it wasn't. As great as our 1st place team is, the '96 Olympic team really was right there in terms of depth of talent. They didn't finish worse than third in any of the stat categories I compared between these teams previous NBA seasons.
However, neither did number 1.
1. 1992 Olympics in Barcelona (The Dream Team)
Average Point Differential: +43.8 Outcome: Gold Medal, 117-85 over Croatia
Best Win Share Team (based on Win Shares per 48 minutes from previous NBA season)
David Robinson
Karl Malone
Clyde Drexler
Michael Jordan
John Stockton
Top Tournament Scorer: Charles Barkley (18.0)
Top Tournament Rebounder: Karl Malone & Patrick Ewing (5.3)
Top Tournament Assist Man: Scottie Pippen (5.9)
Most Minutes: Michael Jordan (185)
He Was Really on the Team?!?! Award: Christian Laettner (61 minutes played)
Jordan was smart, he let a lot of his comrades do a lot of the heavy lifting, a smart move, considering the sizable talent gap between this US National Team and the rest of the world at the time. And they still managed with ease. That point differential is staggering! They scored in triple digits in every…single… game. Barkley once again led the squad in terms of scoring, and is on my short list with Kevin Durant for best US Men's Olympic basketball players ever. Meanwhile, Pippen handled the ball a lot due to Magic Johnson's lack of wind (having not played the '91-92 season) and the fact John Stockton only played in 4 games due to injury.
Barkley, Jordan, Malone, Chris Mullin and Clyde Drexler were double-digit scorers in the tournament. If I include Johnson's '90-'91 NBA stats to go with everyone else's '91-'92 stats they are the best rebounding and assisting team of any of the US Olympics Men's Teams. They're also the best in terms of WS/48 and are second in steals (to 1996) and blocks (to 2000). Without Magic's numbers they still finish 3rd in assists! He's one of the most prolific passers in the history of the game, and they are still 3rd without him! All five 1st Team All NBA members are present, four of the five 2nd team members are and the top 6 in MVP voting are all here. Oh, and everyone except Johnson, Larry Bird and college kid Christian Laettner is between the ages of 26 and 29. I could keep going.
And I will. There was no close call. Croatia coming within 32 points in the final would be the closest anyone would come to defeating the Dream Team. Angola losing 116-48 in the pool play opener would be the farthest. There was only domination in between. Besides giving two roster spots to two players who hadn't played in the previous NBA season, I can't come up with a criticism (everyone points the finger at Stockton as being the player that got picked over Isiah Thomas, what about Magic? giving him the opportunity was a beautiful gesture given his story, but was he really one of the 12 best players in the world at that moment?).
They are the Dream Team. Now officially the best arrangement of basketball talent that has ever been assembled, at least according to this space.