Mookie Betts may never play for the Los Angeles Dodgers. The 27-year old right-fielder was traded from the Boston Red Sox to the Dodgers this past winter along with David Price for a bevy of young talent, despite being the 2018 American League Most Valuable Player, a four-time Gold Glove and three time Silver Slugger winner. Betts hit .346 in his MVP season and slugged .640, both figures led the league. And yet, the Red Sox shipped him off.
Because free agency is approaching. Betts hits the open market this coming off-season and the Red Sox, with eight of their top ten WAR earners in 2019 gradually reaching arbitration and free agency in the coming years, decided that saving their money to spread it around to many lesser talents was more important than handing most of it to just one talent. So due to that and a lack of interest in getting deeper into the luxury tax, off Betts went. Time will tell if the move was savvy, but this kind of operation out of a Major League front office is becoming less and less of a faux pas.
In 2016, the Red Sox benefited from the other end of one of these trades when they received White Sox ace Chris Sale for a number of prospects including infielder Yoan Moncada. Sale led baseball in innings pitched and strikeouts in 2017 and closed out the final outs of the 2018 World Series for the Red Sox, his 15.1 playoff innings that year helping them reach the baseball summit. Obviously, I'd say the Red Sox did well.
However, sometimes the team receiving prospects really benefits from these deals too. For one, Moncada looks like he could be a potential star for the White Sox. Another example of prospect success is the 2016 trade where the New York Yankees traded closer Aroldis Chapman to the Chicago Cubs for three players including Gleyber Torres, who looks like their shortstop for the next decade. Ironically, Chapman also had a hand in the Cubs first championship in over 100 years. It's not like they regret sending Torres away, but there is a precedent here. Selling off a valuable player that is about to cash in on his value can be a great way to acquire new young talent.
We know this now, but we only began to become so enlightened about a dozen years ago. I can speak as a Cleveland Indians fan who watched his team trade Cy Young Award winners away in back to back seasons (CC Sabathia and Cliff Lee, '08 and '09 respectively) as they were about to hit the open market. The Indians, who have been an inventive and innovative baseball factory since Hank Peters began a baseball tree that has now run through John Hart, Mark Shaprio, Chris Antonneti and Mike Chernoff (just in house, there have been other General Managers that have forged their own path elsewhere that have come from this tree) were absolutely lambasted locally for making both of those deals. Fans hated them and hated Shapiro, the GM of the time, for making them. They were called cheap and gutless. How could they possibly compete while trading Cy Young Award winners away in back to back seasons? The 2008 trade of CC Sabathia ultimately yielded Michael Brantley (among others including bust Matt LaPorta, to be fair), who while no longer an Indian, I would consider to this day one of the best pure hitters in the game. The 2009 trade of Cliff Lee yielded starting pitcher Carlos Carrasco, poised to make his return from cancer this year with five of his previous six seasons for the Indians sporting an ERA of 3.30 or less. Sabathia and Lee were both great after departing the Tribe, but in the long run the moves were justifiable.
At least for the Indians and their fans though, those moves were earth-shattering. They were the an early example of selling high on your biggest stars and making sure you get something for them in case they depart for more lucrative pastures. For much of the decade previous to those trades the Indians learned the hard way, losing Hall of Fame slugger Jim Thome, would-be Hall of Fame slugger if he didn't use steroids Manny Ramirez and should-be Hall of Fame defensive maestro Omar Vizquel in free agency. However, the Indians did perform a trade like this in 2002. It was the one that really proved this school of thought when they received prospects Lee, Grady Sizemore, and Brandon Phillips for their ace at the time, Bartolo Colon. Before that the only thing resembling a Betts/Sale/Sabathia type deal the Indians performed during their 1990s run of dominance was the 1997 trade of Kenny Lofton where they received not prospects but 2 very qualified Major Leaguers in outfielders David Justice and Marquis Grissom. That '97 team made the World Series. Justice in particular had multiple productive seasons for the Indians and Lofton even actually ended up returning in free agency in 1998. John Hart made a great trade. He made a trade on the brink of this idea, but not exactly the expiring star for prospects type deals that his disciples would eventually make.
That is why we are here. I want to implant new-school baseball thought into the head of 1990s John Hart. As the 1996 season approached the Indians were coming off of a World Series appearance where they lost in six games to the Atlanta Braves. They came into '96 with an incredibly deep lineup that included Lofton, Vizquel, Ramirez, Thome, and another Hall of Famer in Eddie Murray among other talents. Their triple-A squad in Buffalo would be home to outfielders Brian Giles and Jeromy Burnitz, both future All-Stars in their own right.
And manning left-field for the 1996 season would be Albert Belle. Intense, studious, relentlessly competitive in the batter's box and equally vicious to pitchers and fans or reports that rubbed him the wrong way, Belle would hit .317 in 1995 along with 50 dingers in a season that was shortened by 18 games due to the player's strike. He led the American League in doubles, homers, RBI and slugging percentage. He is the only player to ever hit 50 doubles and 50 home runs in the same season. And he was one year away from free agency, intent to receive the most lucrative contract in baseball history at the time.
What a perfect opportunity to sell high if you're a GM from 2020 trapped in John Hart's 1996 body. So that's right. I am going to try to trade Albert Belle in 1996 for prospects… twenty-four years after the fact.
I obviously have the benefit of hind-sight. I know who will be good in the future and who won't. I will try not to use that to my advantage. A trade like this was unprecedented in 1996 and even more so when you consider the position the Indians were in. Its hard to find historical comparison for it so I will do my best to cobble together a fair trade. Allow me to walk you through the process.
First, it takes two to tango. I need to find a trade partner. I scoured Baseball-Reference.com's 1996 transaction log for activity that would suggest interest in a player of Belle's skill and pay rate. Namely, I looked for trades that were performed before and during that season that included star players or noteworthy power-hitting outfielders. Two deals jumped out at me.
At the 1996 trade deadline the Milwaukee Brewers traded LF Greg Vaughn and a player to be named later to the San Diego Padres for relief pitcher Bryce Florie, outfielder Marc Newfield and left-handed pitcher Ron Villone.
The Padres, looking to make a playoff push, bolstered the middle of their order by adding Vaughn. He hit fourth or fifth 19 times each for the Padres down the stretch while playing left-field replacing the all-time great but aging Rickey Henderson. He would hit only .201 for the Padres in '96 but would smash 10 homers in 43 games. He played two more seasons for the Padres and finished 4th in MVP voting for them in 1998. He made $5.9 million in 1996 and the Padres were committed for 2 more seasons. Belle was paid $5.7 million in 1996 and later committed to 2 seasons in free agency with the White Sox. Financially, there are similarities there.
In this new world I am creating, rather than sign Henderson to a 2-year deal at about $3.1 million per year before the 1996 season, the Padres have decided to pool that money plus the $5.9 million they would need in order to cover Vaughn and will use it to trade for Belle and pay his salary. In terms of fit, they have an obvious need. They have a recognizable hole in left-field as without signing Henderson they are left with 1995 holdover Melvin Nieves to play the position. He hit .205 in 98 games that previous season. Bip Roberts was another left-field possibility until the speedy utility man was traded in a separate deal to Kansas City on December 21st. Making that deal confirms their need to trade for Belle. It will help put them over the top in the NL West. It will be a feather in the cap of new GM Kevin Towers.
So what does this deal look like?
Padres receive: LF Albert Belle
Indians receive: SP, Marc Kroon OF Marc Newfield, RP Bryce Florie, CF Earl Johnson
The one thing the Indians always lacked in those '90s playoff runs was a front of the line ace starting pitcher. My goal in this exercise was to trade for one, plus other supplementing young players. Unfortunately I have had to settle a little in this trade. The Padres' top pitching prospect according to Baseball America in both 1995 and 1996 was Dustin Hermanson, a man who inexplicably only relieved in professional baseball until he exclusively started for the Montreal Expos in 1997. Even as the 3rd overall pick in 1994 and the 18th best prospect in all of baseball in 1995, his lack of starting credentials aren't what I am looking for.
The next best choice was the number 69 overall prospect in 1995, Marc Kroon. Kroon was a 2nd round pick of the New York Mets in 1991 and traded to the Padres in 1993 in a exclusively minor league deal. His numbers weren't staggering, but a 3.51 ERA at the AA level in 1995 was a marked improvement and at the age of 22 he still seemed to have time to improve coming into '96. The Padres however seem to disagree with me as in real life he was relegated to the bullpen in 1996, once again at the AA level. Having fallen out of favor with the San Diego front office would mean he is expendable for our trade.
The next two pieces, Newfield and Florie were part of the Brewers-Padres deal that actually happened and landed Vaughn for the Padres.
Newfield hit .295 with an .812 OPS in 73 games at AAA for the Padres and Mariners (he had been traded to the Padres mid-season) in 1995 and actually earned himself a call-up to the show, spending time in the Majors for both teams. He only hit a combined .236 with 4 homers in the big leagues, but at only 22 there was reason to believe in his talent.
Florie is an example of bullpen depth, something Hart personally always seemed to love to trade for, whether it was Alvin Morman, Steve Reed or Ricardo Rincon. Still, he was a legit relief pitcher for the Padres in 1995 on a team that had depth at that role. Coming off his first full season in, he pitched 68.2 Major League innings and earned a 3.01 ERA in the process, good for a 135 ERA+. A capable sinker-baller, there is reason to believe he could have been plugged into the Indians bullpen in 1996 immediately.
Johnson was a speedy center-fielder who swiped 85 bases in A ball in 1994. While he was a light hitter, with one career professional home run going into the 1996 season, there was reason to consider that the Indians could mold him like they molded the very raw Kenny Lofton from University of Arizona basketball player to Major League All-Star. Further, don't forget Lofton is 2 seasons from free agency himself. There is a potential void to be filled here. Johnson hit .293 in 81 games at High A in 1995. He wasn't a complete lost cause and I deem worthy of a look.
The benefit of hind-sight however tells us that this trade is ultimately a lost cause.
Kroon pitched 26.2 Major League innings in his career and none of them ever came in a start. He went five years between big league opportunities between 1998 and 2004, and never caught on in the Majors.
Newfield actually played a lot in '96 for the Padres and Brewers, scoring an ever-so-slightly better than average 101 OPS+ in 1996 but he never really performed even that well ever again. His baseball career was over by the turn of the millenium.
Florie would never again pitch as well as he did in 1995, but is actually the highlight of the Indians return in this trade. He would pitch six more seasons in the Majors and post an ERA+ of better than 100 in four of them though he would be traded twice more in his career.
Johnson would never get the chance to face big league pitching due to an inability to hit at the AA and AAA level. Both of his batting averages at those levels were below .250 at a time when such a figure just wouldn't fly, especially for a speedster.
This is however just one of two trade possibilities that I have come up with. I started this exercise by scouring the 1996 transaction log for trades that would seem similar to a deal for Albert Belle. The Padres have created one opportunity, however the baseball's evil empire, the New York Yankees created the other.
On December 7th, 1995 the New York Yankees, trying to fill a void left by the retiring Don Mattingly, traded third base prospect Russ Davis and left-handed pitcher Sterling Hitchcock to the Seattle Mariners first baseman Tino Martinez as well as relief pitchers Jim Mecir and Jeff Nelson. Martinez would bat 5th, and hit .292 with 25 homers in 1996 for the Bombers. He would collect just $2.3 million that season compared to Belle's $5.7 million, but that number would graduate into the $4.5 million range over the following five seasons, showing an ability for the Yankees to splurge. This ability to spend is further emphasized by the nearly $10 million the Yankees were willing to commit to starting pitchers David Cone and Kenny Rogers in the same '96 off-season.
The Yankees also had a need in left-field coming into the 1996 season. Gerald Williams played the most real-life games for the Yankees in left in both 1995 and 1996, but he never played over 100 games in either season due to both injuries and poor performance, especially in the latter year. New York also had a need for a clean-up hitter. Real-life trade deadline addition first baseman/DH Cecil Fielder hit in the clean up spot more than any other Yankees hitter in 1996, suggesting a need for someone to fill the four hole on Opening Day. Who better to fill it than Albert Belle?
So the Yankees, without and every day left-fielder or clean-up batter, and with the backing of the biggest market in the country and money to blow going into the 1996 off-season are a prime candidate to take on Albert Belle. But what do the Indians receive in return?
New York Yankees receive: LF Albert Belle
Cleveland Indians receive: SP Matt Drews, C Jorge Posada, RP Dave Pavlas, IF Kevin Riggs
Now, there is one name in that list of players that will jump out at you, and I promise we will get there. But, once again the main goal of this exercise was to try to bring a future ace to the '90s Indians. I had considered targeting Ramiro Mendoza, who ended up making 11 starts at the age of 24 for the Yankees in '96, as the headline prospect here, but decided against it. In order to make this trade I thought it was only fair to alleviate some of the financial burden of bringing Belle to the Yankees by deciding it would mean they would not sign Kenny Rogers. Without Rogers, the Yankee rotation isn't nearly as deep and Mendoza becomes a much more important cog there aren't willing to part with.
Drews, on the other hand, was taken 13th overall in the 1993 MLB Draft and by 1996 was the Yankees best pitching prospect, ranked 12th overall by Baseball America. He was a control specialist who posted a 2.27 ERA in high A ball in 1995. In the winter between the 1995 and 1996 seasons he would make an ideal return for the type of trade that I want.
Okay, now let's get to the name that obviously sticks out twenty-four years later.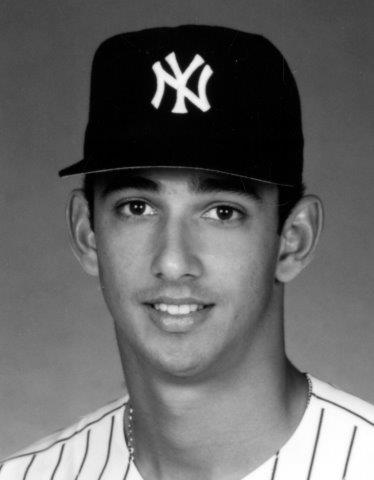 Minor league catcher Jorge Posada was a 43rd round pick for the Yankees in 1989 that just kept improving and worked his way into the Majors for a incredibly brief one game cup of coffee in 1995 that didn't even include an at bat. While not being an overwhelming prospect, Posada showed some ability as an offensive catcher in the minors, nearly skipping AA entirely before playing parts of three seasons at AAA. Additionally, Posada was on the block in real life during the off-season in question, made available in both the trade talks for Martinez as well as Cincinnati pitcher David Wells.
From the Indians' perspective, catcher Sandy Alomar Jr. was incredibly capable, but often injured, having not played 90 games or more since 1990. His back-up Tony Pena was 39 years old in 1996 and in his last season with the Tribe. Posada, who wouldn't really take on full-time catching duties for the Yankees until 1999 anyways, could spend most of the 1996 season at AAA for the Indians, much like he did for the Yanks and could become Alomar's backup in '97. If a log jam really appeared, he could always be traded.
Pavlas is a lottery-ticket addition based on Hart's aforementioned penchant for trading for relief pitching. He was a journeyman minor leaguer that actually was out of American professional baseball for several years but pitched well for the Yankees both in AAA and the Majors in 1995. The Indians can always use bullpen depth. I decided to tack him on.
Additionally, Riggs hit .330 (with an OBP of .479!) in 238 plate appearances at AA in 1995 as a utility player. He may be minor league depth, as he was at the advanced age of 27 going into 1996, but might have been worthy of a look in a time where we didn't know he would never rise above AA. He did however play for the Indians AA affiliate in 1997, suggesting the Indians would have interest in his inclusion.
The outcome of this trade, while ultimately better for the Tribe than my Padres proposal, is ironically acceptable on accident. The main target of the deal, a future ace starting pitcher, never comes to fruition. Drews would go on to post a 5.12 career ERA in AA ball and 7.51 career ERA in AAA. The highly-touted prospect would never make the Majors.
Pavlas would pitch in 16 games for the Yankees in 1996, and pitch quite well actually. He'd throw 23 innings, have an ERA of 2.35 and even collect a save. John Hart would love this guy! Maybe he'd pitch effectively in the Indians pen in '96 as well, still he this would be his last pro season.
Riggs would be released by the Yankees after hitting .290 for them in 1996 and as I said before, the Indians would give him a look in '97. There's is little to believe his career path would change from playing in AA for the Tribe for a year before deciding to play his final year of pro ball in Taiwan in 1998.
That of course leaves Posada. He would go on to play 17 total seasons for the Yankees in real life, peaking in 2003 when he hit .281 with 31 homers and finished 3rd in the American League MVP race. He'd have a career OPS+ of 121 and hit 275 round trippers life-time. He actually would be the steal of this trade, especially if the Indians could lock him up long-term while he was young like the Yankees did.
So here we are, two fairly realistic trade deals that send Albert Belle away from Cleveland in exchange for a package of prospects. One package is a little underwhelming and ultimately rightfully so. The other is accidentally a very intriguing deal for the Tribe with the benefit of hind-sight. I personally think the Padres deal is more likely, but the Yankees deal is obviously more fun while not being outrageous, so let's dig into that a little more.
Trading Belle in '96 would have been an unprecedented move by itself, but can you even imagine if John Hart traded Albert Belle to the Yankees?!?! I don't care that he just engineered a team that brought the Indians to their first World Series in 41 years. The fans would have run him out of town on a rail. The Yankees, while not a divisional rival after the switch to Wildcard play in 1994, were and are still venomously hated in Cleveland to this day. Sports talk radio callers would be comparing Hart to Frank "Trader" Lane in a matter of seconds, the man who traded beloved slugger Rocky Colavito in 1960 (my dad still isn't over this by the way). Hart would essentially use up all good will that he ever had. This had better work. His job is on the line. Ironically for that reason, he better go with the Yankee trade because that is the one that will work.
Now its time to explain why the Yankees does trade work. Real life statistics would show that while Belle would come into this trade like a lion, he would come out like a lamb. In 1996 he is one of the most feared hitters in baseball, but who is to say he would stay in New York past 1996? In real life he signed the most lucrative contract in baseball with the Chicago White Sox upon reaching free agency before the 1997 season. He played 2 seasons including a year where he had an OPS+ of a staggering 172 in 1998 for Chicago. Belle then opted out and once again signed the most lucrative contract in baseball with Baltimore before the 1999 season. All that was great. He continued to be a monster in the right-handed batters box for three years following the end of his deal with the Indians, but then a degenerative hip condition brought his career to a shocking and premature end. He never played beyond 2000 and collected 18.3 WAR in his career between 1996 and his last game.
On the other side, let's say the Indians find a way to extend Posada's contract, much like the Yankees did and much like the Indians did with the likes of Thome, Vizquel and homegrown pitcher Charles Nagy during the early years of their rise. Posada didn't reach free agency with the Yankees until after the 2007 season at age 35. I will be a little more modest. Let's say the Indians are able to keep Posada under contract until 2004 instead. That would put him in line with when the remainder of the Indians core (ie: Vizquel) were let loose into free agency. Posada would be worth 26.2 WAR between 1996 and 2004. Even if by some miracle if Belle had decided to remain in Cleveland following 1996 (which was never going to happen anyway), he would not have been as productive in the long-run as Posada. Even with Drews, Pavlas and Riggs all falling on their face, the Indians arguably get the better of this deal.
Now, there is a lot to be said for context. Posada wouldn't show immediate dividends by spending a year at AAA and then backing up Sandy Alomar Jr. A lot of his production would come in the latter years of '02, '03 and '04 when the Indians began their down-turn. Maybe he would have even been traded at some point for other future players. Meanwhile, its likely the '96 Yankees, who won the World Series without Belle, would win the World Series with him. But perhaps the bright New York lights, the obnoxious media coverage and Belle's awful temperament would torpedo the Yankees title run, allowing the Atlanta Braves to be back to back World Series champs. I certainly don't see Belle remaining lasting in New York beyond '96 for this reason.
So, what have we learned here? All trades are a crap-shoot. They can be made with the best of intentions. You can do all the due diligence in the world. You can be as theoretically sound as you possibly can, but you never just know who is going to produce, which prospect is going to blossom, or which player's body is going to break down.
In neither instance that I came up with did I solve the Indians starting pitching problem. One trade was a total bust. In the other I lucked into the secondary prospect I grabbed being an All-Star level player with a long career. As the fine folks at The Ringer would suggest, trading stars for prospects in baseball isn't the fool-proof plan that it is assumed to be. While at the same time, at least trying to get something for a player that you know won't be returning is still probably the right decision. This makes me think avoiding the sure-fire "can't miss" prospect who will eat up all your trade capital in lieu of casting a wider net and grabbing multiple players of potential might be the real moral to the story. The more chances you have to fall into a Brantley, a Torres or even a Posada, the better.
Its part of what makes baseball so wonderfully frustrating.