Disclaimer: What you are about to read is evidence-based, but it ultimately an opinion piece. The conclusions of this post are not meant to be construed as certifiable fact. Said evidence leads to a speculative conclusion, which is exactly that: SPECULATIVE… Enjoy the post.
Today, we are going to try out a new game here at Pick-Up Sports Talk. Its called, "Was He Juicing?".
The idea is that I take an MLB player from the past, preferably the steroid era, and try to make a determination on whether or not that player used steroids during their career, especially in a meaningful way. I don't want to just find out if a particular player used performance enhancers; I want to find out if it provided some meaningful benefit to his abilities. There are a few players out there like Barry Bonds and Alex Rodriguez where any performance enhancers are more than just rumored. However, there are even more that are shrouded in a cloud of suspicion without a definitive answer on if they used or not. These players will be my focus.
For our first test case, we will examine Hall of Fame catcher Mike Piazza. Remember, this is all for fun. I am making accusations as a fan. I think I am within my rights to do so, but take any conclusion I make with a grain of salt, or even feel free to argue with me.
Piazza played a 16 year career largely with the Los Angeles Dodgers and New York Mets. Despite being taken in the 62nd round (that many rounds don't even exist anymore) of the 1988 Amateur Draft, he was the 1993 National League Rookie of the Year. He was also a 12- time All-Star, 10-time Silver Slugger Award Winner at catcher, and led the National League in Adjusted OPS+ in both 1995 and 1997. He played in the 2000 World Series for the Mets where he hit .273 with 2 homers, but the New York lost in 5 games in the Subway Series vs. the Yankees.
Piazza will be judged on three criteria. They include a really rudimentary body composition eye test, the plausibility of the PED rumors surrounding him, and most importantly, any potential statistical abnormalities that occurred in his career numbers.
Before and after photos of Piazza are somewhat hard to come by. He isn't the most obvious or prolific of suspected PED users, but there is at least some material out there to attempt to make a conclusion from. This first photo is an actual before and after of his time first with the Dodgers and then later the Mets. Admittedly, he looks pretty similar. Allow me to remind you that this is all speculation and I am far from a doctor, but if anything, his arms look a little bit bigger in the earlier Dodgers photo, as does his head- a trademark indicator of steroid use.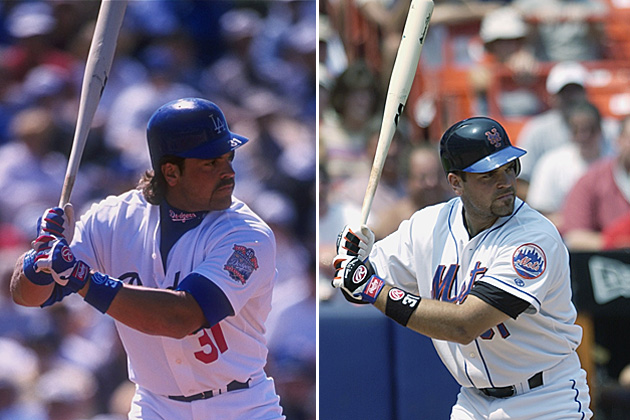 I tried one more photo from each era for Piazza, and honestly, nothing came up conclusive. This portion of the exercise is proving harder than I thought.
I even decided to take a look at Piazza's pre-Major League days and see if maybe the consistency in body type was due to PED use that began at the beginning of his MLB career. Here's a baseball card of Mike Piazza playing for the San Antonio Missions.
Still, there isn't really a conclusion to come to here. Piazza was muscle-bound through the prime of his career. Maybe slightly more built as a Dodger, but its hard to say. However, that little bit more muscle as a Dodger might actually be more telling when you look at the rumored evidence against him.
Apparently, according to this Mets-centric blog, Piazza put on 20 pounds of muscle mass in 1998. The photos I've viewed don't show that to be the case and the Sports Illustrated link the blog uses as proof is now dead. Additionally, MLB writer Murray Chass has suggested Piazza as a PED user based on an excessive case of back acne that Piazza suffers from, a typical side effect of roid use.
Moreover, further research brings this conversation near a conclusion. Piazza himself admitted to taking Androstenedione "early in his career". This is the same drug that was found in Mark McGwire's locker in 1998, and Piazza references that event as the reason he stopped taking it.
As a reminder, Andro wasn't illegal in 1998. It was an over-the-counter supplement in what was a wild time for over-the-counter supplements in America. At the same time, Andro was not allowed by the International Olympic Committee in 1998. While technically not illegal, it was certainly a performance-enhancer.
1998 seems to be the magic year for all of this. Piazza was in the sixth full year of his Major League career at 29 years of age. Supposedly, he put on 20 pounds of muscle mass leading up to the season and then stopped taking Andro in August when he found out the criticism that McGwire was facing.
Putting on that muscle in his sixth season- the season before he would hit the free agent market, makes a lot of sense. He was trying to pad his stats in order to get more money on the open market that coming winter. Conversely, if Piazza is to be believed, then he played September of that 1998 season steroid free. A cursory Google search suggests that the effects of Andro leave a person's body within hours.
During September of 1998 Piazza hit .378 with 6 home runs (13.7 At Bats Per HR). His weighted Runs Created+ for the month was 206. Compared to the full season, Piazza hit .328 and his At Bats Per HR were at 17.5. His wRC+ for the season was 151. It is fair to say then that Piazza had a hot September off of steroids… or he is a liar… or all that built up muscle mass still helped even though he wasn't supplementing it with more drugs. We can't be sure of which.
Looking forward to 1999, what would have been Piazza's first clean season at the age of 30. He hit .303, twenty-five points worse than the previous year, but blasted 40 home runs. His On Base Percentage dipped as well from .390 to .361 as he walked slightly less (9.3% 1998 walk rate vs. 8.6% in 1999). Unfortunately, batted ball data for Fangraphs only goes back to 2002, so I can't speak to his Line Drive Percentage or Hard Hit Percentage to determine if weaker hits were the reason for the dip in his averages. His Batting Average on Balls in Play did dip though from .335 to .283, which would suggest the potential for weaker contact, but he still hit more home runs in less at bats in 1999, suggesting his hard contact was fine. Nothing here is conclusive.
Looking at Piazza career statistics in a wider lens, his career arc looks pretty typical for a modern baseball player. His best years statistically come at the ages of 26 and 28, which are slightly early, but not obviously ridiculous in the way that Bonds's best years came in his mid and late 30s. There is the real possibility however that Piazza is true to his word and used Andro early in his career. With the exception of 1994, which saw him play only 107 games, he never recorded an OPS+ below 152 before 1999 (oddly enough it came in that magical year of 1998). Besides an OPS+ of 155 in 2000 at the age of 31 during the Mets' World Series run, Piazza never saw a number above 152 again. As much as this could suggest that Piazza's story of using Andro early in his career is true, it could also still suggest the regular, natural decline of a baseball player who peaks around the ages of 29 thru 31.
Conclusion
So what do we ultimately have? We've got a Hall of Fame baseball player that potentially looked bigger in the early days of his career and his own admissions suggest he was using a then legal performance enhancer for nearly the first 6 years of his career. This culminates in him adding 20 pounds of muscle the season before he hit the open free agent market in 1998. His best numbers come in those first six seasons and while he was no slouch of a ball-player after those years, his numbers do decline.
My verdict: Piazza used. He was a good enough ball-player that he didn't need to, but he did and gained a marginal advantage early in his career from doing it. He likely went from a regular All-Star to being an MVP candidate for this reason. So yes, he cheated but he's an interesting case because the cheating was in the early part of his career as opposed to trying to extend his years in the game. Mind you, he played from 2003 to 2007 while steroid testing had been put in place by MLB and never got popped, suggesting the story he provided is indeed true.
Take what you will from this information. I don't feel the need personally to speak with vitriol about Piazza given the circumstances, but I do think anyone who used shouldn't be in the Hall.
Unfortunately, this speculation (and let me remind you again, it really is speculation) means nothing to the Hall of Fame voters of 4 years ago… but it was still fun to do.